We were confident that if we sold Veng and used the money to build a new boat, we could be at sea again within two or three years. I was excited at the prospect, I had worked for too many incompetent contractors in my time, now I wanted to build my own masterpiece! But the job must not take too long. The warm south seas seemed more of an attraction in the face of the oncoming English winter.
Over a year passed before we sold Veng, but the weekend we parted with the old boat we began work on the new one. We had toyed with the idea of building a longer version of Veng, but I was enough of a professional now to realise that I was going to have plenty to do with the building, the design would be better off left to a naval architect, and we bought drawings for a forty-five foot ketch designed for building in the new medium of ferro-cement.
An old friend who had served his time on a square-rigged ship gave me an introduction to Roger Barker, who owned a small farm on the outskirts of Crawley. I knocked at his door one night and explained that I wanted a bit of land where I could build a boat. He closed the door behind him and we walked round the farm to a low black-roofed shed, about a hundred feet long and fifty feet wide, which at one time had been the home of a hundred pigs. "That shed has a concrete floor, you could pull this shed down and build your boat there," he said.
I was reluctant to demolish the shed. If by some chance we could build the boat inside we would have protection from the wind and weather. The shed had been built for pigs, so there was not enough height for our boat, and the pitched roof was too rotten to lift, but if we couldn't raise the roof, we could lower the floor! We dug a trench about five feet deep, six feet wide and thirty feet long, and when we had concreted the bottom of the trench, we had a base on which to build our boat.
No-one had used the shed for twenty years, and birds flew in and out of the broken roof, building their nests as we began our work. The pig styes had been built from twelve by six inch timbers and out of that wood we constructed a shipyard, shored up the roof and built a massive bench to which we fitted a wrought iron leg vice for bending the iron rods. As we wheeled the muck left by the pigs out of the shed, we found a fine collection of cutlery which had come in with the pig swill from works canteens, and wondered whether, had the shed been allowed to rot, archeologists at some time in the future might have interpreted this as evidence that the people here ate with their swine!
One of the advantages of being a journeyman is that you have a proper appreciation of the skills of other tradesmen, and my friends, between them, had mastered most of the crafts. The timbers of the traditionally built wooden boat had been replaced in this design by iron tubes, bent into shape and then welded up to form the skeleton of the yacht. The designer who had supplied our plans had suggested that these tubes should be shaped in a bending machine, but we found that method to be slow and unsatisfactory.
On the floor of the shed I had laid down a gigantic drawing board of half-inch plywood, and had drawn out, full size, the shapes we had to form. With a plumbing friend to give me technical help and practical assistance, I laid the tubes directly onto the board and in two days we pulled them into shape round blocks nailed down on the curves.
My old friend and sailing companion Harold Talbot brought in his gas bottles and when he had welded that tube together the skeleton shape of the boat filled the shed and I felt confident then that we would be able to complete the job. The pressure valves on Harold's gas bottles had been used by the technician who had worked with John Logie Baird on the development of television. Harold valued these valves highly and tragically they were the only tools we lost during the building of the boat.
Sometime during the year before our boat-building, Enid, who loved books, had found a very pleasant job and worked as an assistant Librarian, while I worked for a builder who had most of the contracts in Crawley at that time. That firm was not particularly efficient. They probably got most of their work because their estimating department under-costed the jobs.
We had a Ukrainian bricklayer working on the site. During the 1939-45 war, he had served in the German army, been taken prisoner and brought to England and, with the peace, thought it wiser to stay. He expressed his opinion of the management in his peculiar way, "Jesus Cross! This firm no alter, they go to Kruptbank!"
At the time I took over the shed from Roger Barker I was working in a gang on a large housing contract and worked three days of the week for the builder, with four days a week spent on the boat. I enjoyed that period. Although I was working a seven day week, I got bored with neither job, and as Enid came to work on the boat at week-ends, we saw quite a lot of each other. At the end of three months, the firm, instead of sacking me for bad timekeeping, put me in charge of a small gang of bricklayers, and for the rest of the four years it took to build. I worked full time for the firm, and evenings and weekends on the boat.
All our time, all our holidays, and all out money went into the construction of that boat. A twenty ton yacht doesn't look very big against a large ship in a harbour, but stand that yacht on dry land and it looks very big indeed. A lot of material went into the construction. On our iron tube skeleton, we spaced out and tied down seventeen thousand feet of quarter inch reinforcing rod. Eight thicknesses of wire-mesh had to be fastened down on to these rods, and when that job had been finished, our yacht looked like a cage for a million budgerigars. To complete the construction of the hull, sand and cement mortar had to be forced through the mesh and trowelled-off smooth, and we employed four plasterers to do that.
However, as the whole boat had to be cemented in one day, all our friends were invited to assist to force the mortar through that wire-mesh. The hull was less than one inch thick, but even so we used over seven tons of cement mortar on that day. I started work at six in the morning, and when I went home at four on the following morning we had a new yacht.
To be more precise, we had the shell of a yacht which had taken us just over a year to build, and although we thought another year would see the boat finished, it took us three more years to complete the fitting out.
We had never intended to spend so much time on the boat building.
It was a lot of life to use on one job, and we could have got to sea again more quickly if we had been content with a rougher, more basic fitting out and been satisfied with lower standards. A cabin on a yacht is still a cabin whether it is fitted out in solid mahogany or painted plywood. I think what set us on a pursuit of excellence was the high standard set by my carpenter friend Bill Russell, who made a hobby of the boat and at very real financial sacrifice to himself produced first class joinery where it was needed, and left me free to carry on with the rougher carpentry.
As his regular employment was on shift work at Gatwick airport he often found time to work on the boat during the day and we seldom met. I would draw out on the bulkhead wheat I wanted done, and he would do it.
Sometimes, when I got a bit above myself and tried my hand with a decent bit of timber, Bill would examine the result critically and I would find on the following evening a little notice pinned up beside examples of my work with appropriate marks awarded - eight out of ten was high praise indeed.
It worked out that the longer the boat took to finish, the more wages we had from our paid jobs, and the more we could spend on the boat. To work solidly for four and a half years, seven days a week, sounds like a pretty unpleasant experience but I think that for both Enid and myself it was an enjoyable and satisfying period of our lives. There was something magnificent about this yacht which now filled the shed, a complex creation of smooth curved surfaces, shaped to slip sweetly through the seas. Those curves were a delight to the eye and visitors were impressed by the sheer size of the thing and wanted to make some contribution to the work.
Our friends always knew where to find us, and when they came to visit found they were helping us with the more tedious jobs. We had thought of a number of names for the yacht. She might have been called Silk Purse, because she was being built in a pig sty - but you can't make a silk purse out of a sow's ear! Ultimately, we agreed on Phoenix because when we had no more use for the shed, we had agreed to pull it down and burn it, and our new boat would rise like a Phoenix from the ashes.
Although the farm was sandwiched between Crawley and Gatwick airport we were conscious of the tranquil atmosphere of the place as soon as we had come in off the main road and shut the gate to the farm lane. Apple trees from an old orchard overhung the lane, making a pretty picture in the spring and providing us in the autumn with more fruit than we needed.
Roger Barker was a great help to us. He gave us the use of the shed rent-free, and when I asked "for how long?", he replied, "for as long as it takes." Roger was a real gentleman farmer, but he would have always been a gentleman whatever his occupation. On summer evenings he would generally find time to wander in for a chat, while his pet goat ate the nettles at the shed door. The goat he had inherited from gypsies who had rested their caravan at the farm, and moved on without paying the rent. They left behind them the goat, which was quite valueless and gave no milk, but it was typical of Roger that he should befriend the animal and give it a good home. Roger used the field by the shed to provide grazing for his two younger children's horses, and as the years went by on our boat building, the children became adults.
We had run an electric cable up the lane to the shed, and Winter and Summer after my day's work for money, I was able to spend my evenings working for pleasure before I went home to dinner and bed.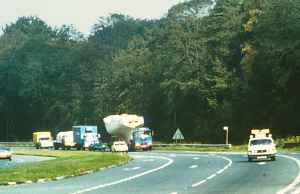 It was autumn 1974, and the clean white decks of the Phoenix were littered with apples when we eased the yacht down the lane, and the transporter carried our new home to Littlehampton, where we settled down for the winter in one of Hillyards' mud berths. There was still work to do on the engine and it was the following July before we were able to test out our new ship.
We had intended to sail to Tunis that year, but the months had slipped by. The last job, rigging the mast, was done by Hillyards, and we moved out of the river at high water and headed west. Three good months lay ahead of us and we could go where we would.
We had acquired a crew: Sue, a student who was taking a sabbatical after a row with her boyfriend, and Mike, a young engineer. Mike was a member of the Arun Yacht club, owned a little yacht, and had argued with his girlfriend over his preference for sailing over marriage and children. Now, he had no girlfriend, but it seemed we had a compatible crew, for Sue and Mike could comfort each other.
We rounded Portland Bill on a nice sunny morning, and as there was a favourable breeze, I told Mike to alter course and we would make towards Brest.
"You mean just alter course, and go?", asked Mike, who until now had been a coast hugging sailor.
"There's no other way," I replied.
Later, I found that Mike, a man I had always assumed to be a non-practicing Catholic, had a compulsion to find a priest and clear himself with his God before making an ocean passage, or maybe it was sailing with me which had made him turn to religion. There is far more to navigation than I had ever bothered to learn and Mike thought there was an element of black magic about my work, when thirty hours later with the tide under us, we shot through the Channel de Four, and on into the harbour of Brest.
We cruised down deep into the bay, and on the whole we thought the boat performed well. Off Les Sables d'Olonne, we had been caught under full sail by a sudden hot blast of gale force wind, and we had an anxious time until we got some of the sail off, but Phoenix, with a beam of more than thirteen feet was proving to be a pretty steady boat, and quite capable of carrying her thousand square feet of canvas in most winds. From La Rochelle, after Sue had left to go back to University, and Mike to return to work, Enid and I had brought the yacht back to Littlehampton on our own. They had been an excellent crew, but it was good to know that we really didn't need them and Enid spent the winter doing a course on celestial navigation, determined that next year, we would cross the Atlantic.

© Ted Rogers 2003
Ted Rogers has asserted his moral right to be identified as the author of this work.